Overview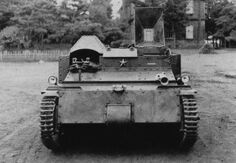 The TypeKa MG Vehicle (カ式機銃車 Ka-Shiki Kijūsha) was the designation for Carden Loyd Mk VI tankettes serviced with the Imperial Japanese Navy. 2 Mk VI vehicles were imported by the IJA in 1930, which led to the development of the Type94 TK. Later, 6 Mk VIb vehicles were imported by the IJN, which saw use during the Second Shanghai Incident. The "Ka" type designation comes from 「カーデンロイド」 (Kaden-Roido), the Japanese term for Carden-Loyd.

Land Vehicles of Imperial Japan


1919 - 1945
Community content is available under
CC-BY-SA
unless otherwise noted.