Overview
The Type91 Vehicle-Mounted Light Machine Gun「九一式車載軽機関銃」was the main Japanese tank machine gun used from 1931 to 1937. It was a slight modification of the Type11 Light Machine Gun.
The gun was equipped with a 1.5x magnification scope ranged at 300 meters. This scope could not be mounted with the standard Type11. The stock was replaced with a pistol grip for operation in the vehicles. The loading rack was modified for ease of operation and loading quickness in the tight tank compartment.
The gun could be removed from the vehicle mount in the field and used as a standard machine gun. For this, the pistol grip could be interchanged with the standard stock and grip. The scope could be easily detached to utilize the standard aiming sights. An attachable bi-pod was carried, should the gun be used in this way.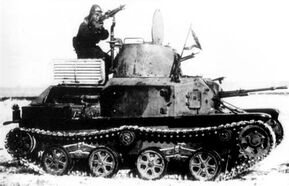 The gun could also be removed and fastened to a high exterior gun mount, for anti-air use.

Weapons of Imperial Japan

1919 - 1945
Community content is available under
CC-BY-SA
unless otherwise noted.