Overview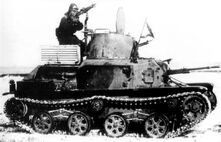 The Type92 Heavy Armoured Car (九二式重装甲車 Kyū-Ni-Shiki Jū-Sōkōsha) was the first indigenous Japanese tankette. In the 1920's, Japan had tested and imported various European tankettes, and it was decided that a vehicle should be designed based upon the knowledge gained. Following the failure of prior primitive designs, the Type92 Jū-Sōkōsha was conceived. The prototype, 'TB' had been complete in late in 1931. It was designed for cavalry use, and as such was designated as a heavy armoured car, rather than a tankette. This was the result of sectionalism within the IJA: Tanks were used by infantry, and cavalry could not operate them. Though initially troublesome, the tank proved to be fairly effective overall, demonstrating its usefulness in the Second Sino-Japanese War. Production was plagued with issues, and in the end, only 172 vehicles were produced. While the vehicle saw gradual changes to armament, there were no official production variants. Changes to the vehicle included replacing the hull gun with a 13.2mm Type92 heavy machine cannon. Another modification added an external machine gun mount for mounting an additional Type91 6.5mm. Later improvements included a new drive train and new suspension. The 37mm Type94 tank gun was also tested in the vehicle. Some Type92 Heavy Armoured Cars are said to have been fitted with the 20mm Type98 anti aircraft gun, though there is no known documentation to support this.
Variants
Experimental amphibious vehicle based upon the Type92 Jū-Sōkōsha.

Land Vehicles of Imperial Japan

1919 - 1945
Community content is available under
CC-BY-SA
unless otherwise noted.