Overview
The Sturmhaubitze Ausf. G (abbreviated as Stu.H. G), also known as Sturmhaubitze mit 10,5cm Sturmhaubitze 42 Ausf. G (abbreviated as Stu.H. m. 10,5cm Stu.H. 42 G), is a German assault gun developed from the Stu.G. III G in the 1940s.
Development
On the 2nd of December 1941, production of twelve 10,5cm le.F.H. 18 auf Sturmgeschützwagen were scheduled to be completed by February 1942.
Alkett was assigned production of the versuchs-serie, and had completed the first prototype in March 1942. Five more models were completed by the end of May 1942.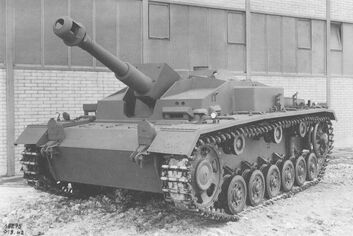 On the 2nd of October 1942, R.M.f.B.u.M. Albert Speer reported that Reichskanzler Adolf Hitler was shown the prototype model, where he praised the low firing height.
The Waffenamt reported that the twelve versuchs-serie units were completed in by January 1943, all of which were constructed on existing Sturmgeschütz III chassis, such as the Stu.G. III E.
Delivery of the series production Sturmhaubitze began in March 1943.
The StuH underwent many changes during production, modifications of which it shared with the Sturmgeschütz III Ausf. G. See that article for a list of in-production changes.
In September 1944, the muzzle brake was no longer fitted. This was due to theorized hindrance with regards to introducing discarding-sabot ammunition.
Production ended in April 1945, when the Alkett factory was captured by Soviet forces.
Variants
Pre-series prototype model.
First series production model.
Second series production model.
Third series production model.
Fourth series production model.
Fifth series production model.
Sixth series production model armed with an L/43 cannon.
Sixth series production model armed with an L/48 cannon.
Final series production model.

Sturmhaubitze Ausf. G

105mm armed model.
150mm armed model.
Service
9 of the 12 versuchs-serie vehicles were deployed to 3.Batterie of the Sturmgeschütz-Abteilung 185. This unit saw combat south of Leningrad in November of 1942.
The ~1300 production models were assigned to various divisions, and saw extensive service until the very end of the war.

Germany (Deutsches Reich)

Land Vehicles
1919 - 1945
Tracked Vehicles
Light Tanks
Light Tanks
E 10 • kl.Tr (A.H.) •

kl.Tr. Fgst.Nr.8000

•

kl.Tr.

•

l.K.A.1

•

l.K.A.2

• l. Pz.Kpfw. z.V.g.E.u.Lz. m. 5,5cm v.at.wa. • Pz.Kpfw. I (A • B • C • D) • Pz.Kpfw. II (a • b •

c

• A •

B

•

C

•

D

•

E

•

F

• G •

H

•

J

•

L

• M) • Pz.Kpfw. 35(t) • Pz.Kpfw. 38(t) (A • B • C •

D

•

E

•

F

• G •

S

• nA) •

Pz.Kpfw. 38 D

• Pz.Kpfw. Leopard •

Pz.Kpfw. T-15

•

Pz.Kpfw. T-21

•

Pz.Kpfw. T-22

• Pz.Kpfw. T-23 • VAE 393 • VK6.01 • VK6.02 • VK9.01 • VK9.02 •

VK9.03

•

VK13.03

•

VK16.01

• VK16.02
Amphibious Light Tanks

Pz.Kpfw. II (Schwimm)

•

Pz.Kpfw. 38(t) (Schwimm)

Flamethrower Light Tanks
Fl.Pz. I A •

Fl.Pz. II A

•

Fl.Pz. II B

Command Light Tanks

Führungs-Fahrzeug auf Pz.Kpfw. 731(r)

•

Pz.Bfw. I

(

A (early)

•

A (mid)

•

A (late)

• B •

B Rahmenantenne

•

B für Sd.Kfz.300/303

) •

Pz.Bfw. 35(t)

Medium Tanks
Medium Tanks
B.W. I(Rh) • B.W. I(K) • B.W. II(K) • E 50 •

gr.Tr.(DB)

•

gr.Tr.(K)

•

gr.Tr.(Rh)

•

K.A.v.

• m.K.A. • Mw.Pz. • Nb.Pz.Kpfw. IV • Pz.Kpfw. 740(f) • Pz.Kpfw. III (A •

B

•

C

•

D

• E •

E+

• F •

F+

•

G

•

G+

•

H

•

J

• K •

L

• M •

N

) • Pz.Kpfw. III/IV • Pz.Kpfw. IV (A • B • C • D • E • F1 • F2 • G • H • J • W1462) • Pz.Kpfw. Panther (D •

A

•

G

• F • II • V1 • V2) • VK20.01(Rh) •

VK24.01

• VK28.01(K) •

VK30.01(DB)

•

VK30.01(H)

• VK30.01(MAN) (V1 • V2) • VK30.01(P) •

VK30.02

• Z.W. (

38

•

39

•

40

•

41

•

V1

•

V3

•

V4

)
Amphibious Medium Tanks

T.Pz. III

(

B

•

F

•

G

•

H

•

Pz.Bfw. III H

) •

T.Pz. IV

•

T.Stu.G. III

•

U.-T.Fz.

Command Medium Tanks

Pz.Bfw. III

(

D1

•

E

•

G

•

H (early)

•

H (late)

• K •

M

) •

Pz.Bfw. IV

(

H

•

J

) •

Pz.Bfw. V D

•

Pz.Bfw. V D mit Pz.Kpfw. IV H Turm

•

Pz.Bfw. V A

•

Pz.Bfw. V G

•

Pz.Kpfw. III (Fu) J

•

Pz.Kpfw. III (Fu) L

•

Pz.Kpfw. III (Fu) N

•

T.Pz.Bfw. III H

Flamethrower Medium Tanks

Fl.Pz. III M

•

Fl.Pz. 38(t)

• Fl.Pz. 740(f)
Heavy Tanks
Standard Heavy Tanks
D.W. I • D.W. II •

E 75

• E 100 •

I.w.

•

L.K.

• LK P.1000 • LK P.1500 • Pz.Kpfw. I F • Pz.Kpfw. Tiger (

H1

• H2 •

E

) •

Pz.Kpfw. Tiger II

• Pz.Kpfw. VII • Pz.Kpfw. Maus (Maus II) •

s.K.A.

•

Typ 205

(

/1

• /2) •

Typ 245

• VK18.01 •

VK30.01(H)

• VK30.01(P) • VK36.01(H) • VK45.01(P) •

VK45.01(H)

•

VK45.02(H)

•

VK45.02(P1)

•

VK45.02(P2)

•

VK45.03(H)

• VK65.01(H) • VK70.01(K) •

VK72.01

•

VK100.01(K)

•

VK100.01(P)

•

VK130.01(K)

Command Heavy Tanks

Pz.Bfw. VI

•

Pz.Bfw. VI(P)

Self-Propelled Guns
SPAA

2cm FlaK 38 auf RSO

•

3cm MK 103 auf Typ 245

•

5cm FlaK 41 auf VK16.02

•

5cm FlaK 41 auf VK28.01

•

5cm Gerät auf VK16.02

•

5cm Gerät auf VK28.01

• 5,5cm Gerät 58 Z. auf W.T. •

5,5cm MK 122 auf Typ 245

•

8,8cm FlaK 37 auf Pz.Kpfw. IV

•

8,8cm FlaK 41 auf Pz.Kpfw. IV

•

8,8cm FlaK 41 (Sfl.) Panther I

•

8,8cm Pz.Fla.K. v. Rheinmetall

• Flak.Pz. I •

Flak.Pz. II

•

Flak.Pz. IV Kugelblitz

•

Flak.Pz. Möbelwagen

• Flak.Pz. IV Ostwind (II) • Flak.Pz. IV Wirbelwind • Flak.Pz. Zerstörer • Flak.Pz. 38(t) •

Flak.Pz. 38 D

• Flak.Pz. 554 •

Flak.Pz. 747(r)

•

gep.Sfl. f. Fla.K. 41

• l. Pz.Kpfw. z.V.g.E.u.Lz. m. 5,5cm v.at.wa. • Mw.Fz. mit Vierling 2cm
SPATG

3,7cm (Sfl.) auf Hanomag-Schlepper

• 4,7cm PaK 36(t) (Sf) auf Fahrgestell Panzerkampfwagen I •

4,7cm PaK 38(t) auf Pz.Kpfw. 731(r)

•

4,7cm PaK 181(f) auf Panzerjäger LrS(f)

•

4,7cm PaK 183(f) auf Pz.Jgr. Lr.S.(f)

•

5cm PaK 38 auf Fgst. Pz.Kpfw. II

•

7,5cm PaK 40/4 auf RSO

•

7,5cm PaK 42 auf VK9.03

•

7,5cm PaK 97/38(f) auf Pz.Kpfw. 740(r)

• 8,8cm PaK 43/1 auf G.W. III/IV •

10,5cm K 18 auf Pz.Kpfw. IVa

• 12,8cm K 43 auf Gerät 5-1213 •

12,8cm K 43 auf Pz.Kpfw. Panther

•

8,8cm PaK 43 auf l.Eh.W.T.

• E 25 • JPz. 38 D • JPz. 38(t) •

JPz. 38(t) mit 10,5cm StuH 42

•

JPz. 38(t) mit 7,5cm L/70

•

JPz. 38(t) Starr

•

JPz. IV L/43

•

JPz. IV L/48

•

JPz. IVb

• JPz. Jagdpanther •

l.Tr. (Rh)

•

L.S.K.

• Marder I LrS • Marder I FCM-36 • Marder I 39H • Marder II 75mm • Marder II 76.2mm • Marder III • Marder III Ausf. H • Marder III Ausf. M • Pz. IV lang(E) • Pz. IV/70(A) • Pz. IV/70(V) •

Pz,Jgr, 38(t) mit Pz.Kpfw. IV Turm

• Pz.Jgr. Ferdinand • Pz.Jgr. Elefant • Pz.Jgr. Tiger B(H) • Pz.Jgr. Tiger B(P) •

Pz.Jgr. Tiger B mit 8,8cm PaK 43/3

•

Pz.Jgr. Tiger B mit 12,8cm PaK L/66

• Pz.Kpfw. mit 7,5cm StuK 40 • Pz.kl.Z. • Pz.Sfl. f. 12,8cm K 40 •

Typ 245/2

•

Typ 250

•

Typ 255

•

s.kl.Pz.Kpfw. mit 10cm PAW

•

s.kl.Pz.Kpfw. mit 10,5cm leFH 43 und 3cm MK 108

• W.T. 8,8cm Krupp-Ardelt • W.T. 8,8cm Rhm.-Borsig •

W.T. 8,8cm Steyr

•

VK70.02(P)

SPG

7,7cm Kanone auf Hanomag-Schlepper

• 12,8cm Kanone 43 Gerät 5-1211 Krupp •

15cm sIG 33 auf Pz.Kpfw. 38(t) M

•

Gerät 5-1530

•

Gerät 5-1528

•

Gw. Tiger

• Pz.Sfl. III •

Stu.H. 42

• Stu.IG 33 •

Stu.G. Leopard

• Stu.G. III (A • B • C • D • E • F • F/8 • G • L/70) • Stu.G. IV •

Stu.G. E 75

• Stu.G. E 100 •

Stu.G. 853(i)

• Stu.H. • Stu.Pz. •

Tauch-Stu.G. III

SPH
10,5cm leFH 18/3 Gw. 740(f) •

10,5cm leFH 16/18 (Sf) auf Geschützwagen FCM-36(f)

•

10,5cm leFH 18 (Sf) auf Geschützwagen LrS(f)

• 10,5cm leFH 18/1 auf Geschützwagen IVb • 10,5cm leFH 18/40/2 auf Geschützwagen III/IV • 10,5cm leFH 18/6 auf Geschützwagen III/IV •

10,5cm leFH 43 auf Typ 245

•

15cm sFH 13 (Sf) auf Geschützwagen LrS(f)

•

15cm schweres Feldhaubitze 18/4 Gerät 811

• 15cm sIG 33 (Sfl) auf Panzerkampfwagen II Ausf.B •

15cm sIG 33B (Sfl) auf Fahrgestell Panzerkampfwagen III Ausf. H

•

Sturmpanzer 38(t)

• Wespe
SPM

8cm schwerer Granatwerfer 34 auf Panzerspähwagen AMR-35(f)

• 30,5cm L/16 auf Sfl. Bär •

30,5cm Mörser M 16 auf Sturmpanzer IV

•

Gerät 040

•

Gerät 041

•

Panzermörser 35(t)

• Sturmpanzer VI Sturmtiger
SPRA

Panzerkampfwagen IV Ausf. C mit schweres Wurfgerät 41 28-32cm

•

Raketenwerfer Panther

Explosive Related
Remote Controlled Explosives

Goliath

•

Springer

Demolition Carriers

Bogward III

•

Bogward IV

Mine Laying

Ladungsleger auf Panzerkampfwagen I Ausf. A

•

Ladungsleger auf Panzerkampfwagen I Ausf. B

•

Ladungsleger II

Mine Clearing / Sweeping

Alkett Vs.Kfz. 617 Minenräumer

•

Krupp Räumer S

•

Minenräumer III

•

Mineräumpanzer IV

Misc Tanks
Ammunition Carriers
Gw.II f. Mun. • Gw.III/IV f. Mun. • Gw.38 f. Mun. K •

Munitionspanzer III

•

Munitionspanzer für Sturmpanzer

• VK3.01 • VK3.02 •

VK5.01

Armoured Recovery

Bergepanther

(

D

•

A

•

G

) •

Bergepanzer 38 D

• Bergepanzer 38(t) •

Berg.Pz. 748(a)

•

Bergepanzer I

•

Bergepanzer II Ausf. J

•

Bergepanzer II Luchs

• Bergepanzer III • Bergepanzer IV •

Bergepanzer VI(P)

•

VKz35.01

Bridge Laying

Br. I A

• Br. II B •

Br. IV C

•

Br. IV D

•

Brückenmaterialträger

•

Sturmstegpanzer IV

Engineering & Maintenance

Instandsetzungskraftwagen I

•

Pi.Pz.Kpfw. I

•

Pi.Pz.Kpfw. III

Training Vehicles
PzKpfw I A o Aufbau • PzKpfw I B o Aufbau •

Fahrschulpanzer V

•

Fahrschulpanzer VI

•

Fahrschulpanzer 740(f)

Transport & Towing

Raupenschlepper Ost

Rail Tanks

Schienenkampfwagen 1

Ramming & Land / Snow Clearance

Ramschaufelpanzer Panther

• VK45.01(P) mit Rammhaube
Recon & Observation
Art.-Pz.Beobw. Panther •

Aufkl. 38 D (2cm)

•

Aufkl. 38 D (7,5cm)

• Aufkl.Pz. 38(t) (2cm) •

Aufkl.Pz. 38(t) (7,5cm)

• Aufkl.Pz. (5,5cm) •

Aufkl.Pz. Panther

• Aufklärungsfarhzeug Auto Union •

Boeb.Pz.Wg. II

•

Kugelpanzer

• Panzer-Aufklärer auf 38(t) •

Pz.Beobw. II

•

PzBeobw III

•

PzBeobw IV J

•

PzBeobw V D

•

PzSpw II (2cm)

• Panzerspähwagen II (5cm) • Vollkettenaufklärer 38(t)
Half-Tracked Vehicles
Offensive / Defensive
SPAA

2cm Fla.K. 30 auf Fgst. le.Zgkw. 1t

•

2cm Fla.K. 38 auf Fgst. le.Zgkw. 1t

•

2cm Fla.K. 38 (Sf.) auf le.Zgkw. 1t

•

2cm Fla.K. 38 Vierling (Sf.) auf m.Zgkw. 8t

•

3,7cm Fla.K. 43 (Sf.) auf S.Ws.

•

5cm Fla.K. 41 (Sf.) auf m.Zgkw 5t

•

8,8cm Fla.K. 18 (Sfl.) auf s.Zgkw 12t

• 8,8cm Fla.K. 37 (Sfl.) auf s.Zgkw 18t
Armoured Recon

le.S.P.W. (2cm)

•

le.S.P.W. (3,7cm) aA

•

le.S.P.W. (3,7cm) nA

•

Pz.Spw. RK A

Fire Support
le.S.P.W. (7,5cm) •

le.S.P.W. (s.Pz.B. 41)

SPM

8cm R-vielfachwerfer auf Fahgestell S 303(f)

•

leichter Schützenpanzerwagen (schwerer Granatwerfer)

•

mittlerer Schützenpanzerwagen S307(f)

SPRA

8cm R.W. auf Fgst. S303(f)

•

8cm Reihenwerfer auf Fahgestell S303(f)

SPATG

5cm PaK 38 (Sf) auf leichter Zugkraftwagen 1t

•

7,5cm PaK 40 (Sf) auf Fahrgestell S 307(f)

•

8,8cm FlaK 18 (Sf) auf schwerer Zugkraftwagen 12t

• 8,8cm FlaK 37 (Sfl.) auf schwerer Zugkraftwagen 18t •

leichter Schützenpanzerwagen mit Sfl 5cm PaK 38 L/60

•

Panzerjäger S307(f) mit 7,5cm PaK 40 L/46

Utility
Ammunition Carriers
l.gp.Mun.Tr.Kw. • le.Mun.Pz.Wg. (A • B)
Command

le.Beob.Pz.Wg. n.A.

Communication & Cable Related

kl.Kett.Krad. f. Fe.Kab.

•

kl.Kett.Krad. f. s.Fe.Kab.

•

leichter Fernsprechpanzerwagen

•

leichter Funkpanzerwagen

Engineering
m.S.P.W. (Pi)
Observation, Spotting & Survey

leichter gepanzerter Beobachtungskraftwagen

•

leichter Beobachtungspanzerwagen Alte

• le.Messtrupp-Pz.Wg. • m.S.P.W. (IR)
Transport & Towing

gepanzerter Transportkraftwagen P380(f)

• kl.Kett.Krad • leichter Schützenpanzerwagen Series •

leichter Schützenpanzerwagen Alte

•

le.S.P.W. n.A.

•

le.S.P.W. U304(f)

•

le.Zgkw 1t

•

le.Zgkw 3t

•

le.Zgkw S307(f)

•

m.gep.Zgkw S303(f)

•

m.Zgkw 5t

•

m.Zgkw 8t

•

S.P.W. M2(a)

•

S.P.W. M3(a)

•

s.Zgkw 12t

•

s.Zgkw 18t

•

Zgkw P302(b)

•

Zgkw P302(f)

•

Zgkw P304(f)
Wheeled Vehicles
Offensive / Defensive
Armoured Cars

ARW

• gep.Kw. •

l.MG.Kw.

•

l.Pz.Spw. (2cm) A

• l.Pz.Spw. (2cm) B •

l.Pz.Spw. (MG)

• l.Pz.Spw. (4 Rad) (Tp.) •

MG.Kw.

•

Pz.Spw. 202(i)

•

Panzerspähwagen Škoda PA-II 4-rad

• s.Pz.Spw. (2cm) • s.Pz.Spw. (5cm) •

s.Pz.Spw. (6rad)

• s.Pz.Spw. (7,5cm K 37) • s.Pz.Spw. (7,5cm K 51) •

s.Pz.Spw. (7,5cm K L/48)

• s.Pz.Spw. (7,5cm PaK 40) •

ZRW

SPAA

2cm Fla.K. 30 auf Volkswagen Schwimmwagen Type 166

• l.Trlsch.Kw. •

s.gl.Lkw. L4500A mit 3,7cm Fla.K. 36

•

Sfl. auf Fgst. VOMAG 7 OR 660 mit 8,8cm Fla.K. 36

Other
Command

Kfz. 14

•

Kfz. 15

•

kl.Pz.Fw. A

(

A

•

B

) •

le.Fu.Kw.

•

le.Pz.Spw. (Fu.)

(

A

•

B

) •

Pz.Fw. (6 Rad)

•

Pz.Fw. (8 Rad)

•

Pz.Spw. PA-II (Fu.) (4 Rad)

•

s.gl.gp.Pkw.

•

s.Pz.Spw. (Fu.)

Fire Fighting

Obel Blitz 1,0t KzS

Kitchen

l.Meßtrupp.Kw.

•

m.Meßtrupp.Kw.

•

Obel Blitz 3,0t Küchenwagen

Medical

San.ger.Kw.

Motocycles

BMW R17

•

BMW R68

•

BMW R71

•

BMW R75

•

DKW NZ 350

•

FN M12

•

Gillet Herstal 720 AB

•

Gnome-Rhône AX II

•

Nimbus

•

Zündapp DB 200

•

Zündapp DBK 200

•

Zündapp K 800

•

Zündapp KS 600

•

Zündapp KS 750

Transport & Towing

Adler 10N

•

Adler 12N 3G

•

Adler 12N RW

•

Adler 3GD

•

Adler V40T

•

Adler W61

•

ADTK

•

BMW 3/15 PS

•

BMW 3/20 PS

•

BMW 309

•

BMW 315

•

BMW 319

•

Borgward 5 t

•

Borgward B 3000 A

•

Borgward B 3000 A

•

Borgward Europa V

•

Borgward L 2000 S

•

Borgward L 2300

•

Borgward Typ 3 t Benzin G.W.

•

Borgward Typ 3 t Diesel G.W.

•

Ford BB

•

Ford EGa

•

Ford EGb

•

Ford EGd

•

Ford EG Typ 40

•

Ford G198TWA

•

Ford G388TS

•

Ford G398TS

•

Ford G917T

•

Ford G987T

•

Ford G997T

•

Ford V 3000A

•

Ford V 3000S

•

Ford V 3000S/SSM Maultier

•

Ford V8 G48

•

Ford V8 G78

•

Ford V8-51

• gp.Kw. •

Hanomag 3/16 PS

•

Hanomag 4/20 PS

•

Hanomag 4/23 PS

•

Hanomag Garant

•

Hanomag Rekord

•

Horch Typ 1a Kfz.15

•

Horch Typ 1a Kfz. 21

•

Horch 830B

•

Horch 830R

•

Horch 901

•

Krupp L2H43-143

• l.gl.Pkw •

Mercedes-Benz 320 Model 1939

•

Mercedes-Benz DB s 7

•

Mercedes-Benz DB s 8

•

Mercedes-Benz DB L 5

•

Mercedes-Benz DB L 7

•

Mercedes-Benz DB L 8

•

Mercedes-Benz DB m 8

•

Mercedes-Benz DB 9

•

Mercedes-Benz DB 10

•

Mercedes-Benz G3a

•

Mercedes-Benz LG63

•

Mercedes-Benz LG65/3

•

Mercedes-Benz LG65/4

•

Mercedes-Benz LG3000

•

Mercedes-Benz Lo2000

•

Mercedes-Benz Lo2500

•

Mercedes-Benz Lo2750

•

Mercedes-Benz Lo3750

•

Mercedes-Benz L701

•

Mercedes-Benz L1500A

•

Mercedes-Benz L1500E

•

Mercedes-Benz L1500S

•

Mercedes-Benz L3000

•

Mercedes-Benz L3000A

•

Mercedes-Benz L3000S

•

Mercedes-Benz L3750

•

Mercedes-Benz L4500A

•

Mercedes-Benz L4500R

•

Mercedes-Benz L4500S

•

Mercedes-Benz L6500

•

Mercedes-Benz L10000

•

Mercedes-Benz O2600

•

m.gl.pkw.

•

Opel Admiral Kastenwagen

•

Opel 1,2L pritsche

•

Opel 1,2L kastenlieferwagen

•

Opel 2,0L pickup

•

Opel 2,0L gas generator pickup

•

Opel 10

•

Opel P4 Kastenlieferwagen

•

Opel-Blitz gas generator

•

Opel-Blitz 1,0t

•

Opel-Blitz 1,0t omnibus

•

Opel-Blitz 1,0t Kastenwagen

•

Opel-Blitz 2,5t-32

•

Opel-Blitz 2,5t

•

Opel-Blitz 2,5t omnibus

•

Opel-Blitz 3,0t ombibus

•

Opel-Blitz 3,6t-36S

•

Opel-Blitz 3,6t-36SSM

•

Opel-Blitz 3,6-47 omnibus

•

Opel-Blitz 3,6-47 Wehrmacht omnibus

•

Opel-Blitz 3,6-6700A

•

Opel-Olympia OL38

•

Saurer RR-7

•

schwerer Einheits PKW

(

Fernsprechkraftwagen

•

Flakkraftwagen

•

Funkkraftwagen

•

Mannschaftskraftwagen

•

Protzkraftwagen

•

Scheinwerferkraftwagen I

•

Scheinwerferkraftwagen II

•

Vs.kw.

) •

s.gl.gp.pkw. (4-rad)

•

s.gl.gp.pkw. (6-rad)

•

Škoda H6ST6-T

•

Škoda Radschlepper Öst

•

Škoda Typ 903

•

Škoda Typ 952

•

Steyr-40D/140

•

Steyr-40D/340

•

Steyr-40D/440

•

Steyr-270 1500A/02

•

Steyr-470 RSO/01

•

Steyr-640

•

Steyr-2000A

•

Tatra 57

(

A

•

B

•

K

) •

Tatra 72

•

Tatra 82

•

Tatra 92

•

Tatra 111

•

Tatra 57K

•

VW Typ 82 Kübelwagen

•

VW Typ 87

•

VW Typ 166 Schwimmwagen
Sources
Books
Online
Documents
• Panzer Tracts No. 8
• Panzer Tracts No. 23