Overview
The Springfield Model 1863 is a .58 caliber rifle musket, which is a minor improvement of the Springfield Model 1861 and is commonly classified as a variant of the model 1861.
The Model 1863 was produced in two variants. The Type I eliminated the band springs and replaced the flat barrel bands with oval clamping bands. It also featured a new ramrod, a case-hardened lock, a new hammer, and a redesigned bolster (percussion chamber).
The Type II is sometimes referred to as the Model 1864, but is more commonly referred to as just a variant of the Model 1863. This version re-introduced band springs, replaced the clamping bands with solid oval bands, and replaced the three leaf rear sight with single leaf sight.
Videos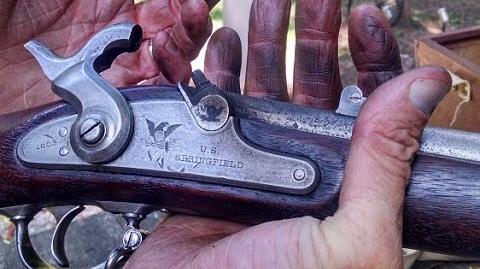 Weapons of the United States of America


19th Century (1800 - 1899)
Artillery
Anti-Aircraft Guns
[[]]
Field Guns
3-inch Wrought Iron Rifle
Howitzers
[[]]
Infantry Guns
[[]]
Mortars
[[]]
Railroad Artillery
[[]]
Siege Artillery
[[]]
Land Vehicle Weapons
Vehicle Machine Guns
[[]]
Automatic Cannons
[[]]
Aircraft Weapons & Munitions
Aircraft Machine Guns
[[]]
Naval Weapons & Munitions
Naval Cannons
[[]]
Community content is available under
CC-BY-SA
unless otherwise noted.