Overview
The Medium Tank, T26E4, is an American prototype medium tank developed toward the end of the second world war. The T26E4 was developed from the T26E3.
Variants
Original prototype model with electric transmission.
Prototype model with torqmatic transmission.
Close support model equipped with the 105mm Howitzer, M4.
Prototype model that was accepted into service as the Medium Tank, M26.

Medium Tank, T26E4

Up-gunned model equipped with the 90m Gun, T15E2.
Up-armoured prototype.
Standard production model, redesignated from Medium Tank, T26E3.
Updated T26E4 with 90mm Gun, T54.
Upgraded model redesignated Medium Tank, M46.
Upgraded M26 with 90mm Gun, M3A1.
Model equipped with the Rocket Launcher, T99 system.
Development
Service History
The T26E4, Temporary Pilot No. 1 (registration number 30103292) saw service in the second world war as part of Company I, 33rd Armored Regiment, 3rd Armored Division.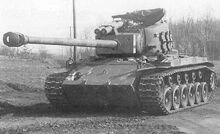 This model was a converted T26E1, that was later up-armoured with extra plates to the gun mantle and the front hull. It received two 38mm boiler plates on the front hull, and the turret received an 80mm armour plate from the upper glacis of a captured German Panther. This vehicle also had a 90mm Gun, T15E1 instead of the T15E2 in other T26E4 models.
It successfully destroyed two vehicles - a Jagdpanther (s.Pz.Abt.507) and an unknown tank, thought to be a Tiger I, but it was likely a Pz.Kpfw. IV due to lack of evidence of Tigers remaining in the area.
This particular model was sent to Kassau after the war and scrapped.

Land Vehicles of the United States of America


1919 - 1945
Half-Tracked Vehicles
Transport
M2 (A1 • A2 • E6) • M3 (A1 • A2 • E2) • M5 (A1 • A2) • M9 (M9A1)
T7 • T14 • T16 • T29 • T31
Trucks
T15 • T16 • T17 • T18 • T19
Amphibious Transport
T32
Gun Motor Carriages (GMC)
M3, 75mm (A1) • M34, 40mm
T12, 75mm • T48, 57mm • T54, 40mm (E1) • T59, 40mm (E1) • T60, 40mm (E1) • T68, 40mm
Howitzer Motor Carriages (HMC)
T19, 105mm • T30, 75mm • T34, 105mm • T38, 105mm
Multiple Gun Motor Carriages (MGMC)
M2 Halftrack (B-6) • M13 • M14 • M15 (A1) • M16 (A1) • M17
T1 (E1 • E2 • E3 • E4) • T10 (E1) • T28 (E1) • T58
Mortar Motor Carriages (MMC)
81mm M4 (A1) • T19 • M21 • T21 (E1)
Utility
Patton's Command Vehicle • Radio Carrier, T17 • T18 Instrument Carrier
Community content is available under
CC-BY-SA
unless otherwise noted.