Overview
The Medium Tank, T26E4, is an American prototype medium tank developed toward the end of the second world war. The T26E4 was developed from the T26E3.
Variants
Medium Tank, T26

Original prototype model with electric transmission.
Prototype model with torqmatic transmission.

Medium Tank, T26E2

Close support model equipped with the

105mm Howitzer, M4

.

Medium Tank, T26E3

Prototype model that was accepted into service as the Medium Tank, M26.

Medium Tank, T26E4

Up-gunned model equipped with the

90m Gun, T15E2

.

Medium Tank, T26E5

Up-armoured prototype.
Standard production model, redesignated from

Medium Tank, T26E3

.

Medium Tank, M26E1

Updated T26E4 with

90mm Gun, T54

.

Medium Tank, M26E2

Upgraded model redesignated

Medium Tank, M46

.

Medium Tank, M26A1

Upgraded M26 with

90mm Gun, M3A1

.

Medium Tank, M26 (T99)

Model equipped with the

Rocket Launcher, T99

system.
Development
Service History
The T26E4, Temporary Pilot No. 1 (registration number 30103292) saw service in the second world war as part of Company I, 33rd Armored Regiment, 3rd Armored Division.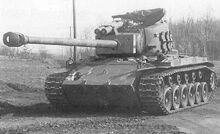 This model was a converted T26E1, that was later up-armoured with extra plates to the gun mantle and the front hull. It received two 38mm boiler plates on the front hull, and the turret received an 80mm armour plate from the upper glacis of a captured German Panther. This vehicle also had a 90mm Gun, T15E1 instead of the T15E2 in other T26E4 models.
It successfully destroyed two vehicles - a Jagdpanther (s.Pz.Abt.507) and an unknown tank, thought to be a Tiger I, but it was likely a Pz.Kpfw. IV due to lack of evidence of Tigers remaining in the area.
This particular model was sent to Kassau after the war and scrapped.

Land Vehicles of the United States of America


1919 - 1945
Tracked Vehicles
Light Tanks
Tankettes

CTL

(

1

•

1TB1

•

2

•

3

•

3A

•

3M

•

3TBD

•

4TAC

•

4TAY

•

6

)
Standard Light Tanks

CTMS-1TB1

•

M1

(

E2

•

A1

•

A1E1

) •

Light Tank, M2

(

A1

•

A2

•

A3

•

A4

) •

M3

(

(early)

•

(late)

• A1 •

A3

•

M5

(M5A1) • M22 • M24 • T1 (

E1

•

E2

•

E3

•

E4

•

E5

•

E6

) •

T2E1

•

T2E2

•

T3

•

T5

(

E1

•

E2

) •

T7

(

E1

•

E2

•

E3

•

E4

•

E5

) •

T9

(

E1

) •

T13

(

E1

) •

T16

•

T21

•

T24

(

E1

) •

T37

•

MTLS-1G14

Amphibious Light Tanks
LVT(A)-1 •

LVT(A)-1/M24 Turret

•

LVT(A)-4 (early)

•

LVT(A)-4 (late)

•

LVT(A)-5

Flamethrower Light Tanks

Light Tank, M3 Satan

•

T65

Medium Tanks
Standard Medium Tanks

Christie M1919

•

Christie M1921

•

Christie M1928

•

Christie M1931

•

A M1921

•

M1

• M2 •

M2A1

• M3 Lee (

A1

•

A2

•

A3

•

A4

•

A5

) • M4 Sherman Series (M4 (early) • M4 (mid) •

M4 (late)

•

M4 Hybrid

•

M4(105)

•

M4(105) HVSS

•

M4A1

•

M4A1E9

•

M4A1(76)W

•

M4A1(76)W HVSS

•

M4A2

•

M4A2E4

•

M4A2(76)W

•

M4A2(76)W HVSS

•

M4A3

•

M4A3E2

•

M4A3(76)W

•

M4A3(76)W HVSS

• M4A3(105) •

M4A3(105) HVSS

•

M4A4

• M4A5 • M4A6) • M7 •

T2

•

T3

(

E1

•

E2

) •

T4

(

E1

•

E2

) • T5 •

T6

•

T15

•

T20

(

E3

) •

T22

(

E1

) • T23 (

E3

•

HVSS

) • T25 (

E1

) •

T26

(E1 •

E2

•

E3

• E4 •

E5

) • M26 "Pershing" •

M27

• M45 •

MTL-1G14

Flamethrower Medium Tanks

M4A3E8 POA-CWS-H5

•

M4A3R3

•

M4A3R5

Heavy Tanks
Standard Heavy Tanks

T1

(

E1

• E2 •

E3

) •

M3

• M6 (

A1

•

A2

•

A2E1-1

) • T14 • T28 • T29 • T30 • T32 • T34
Gun Carriages
SPAA

T19

•

M19

•

M19A1

•

T52

• T53 (

E1

) •

T65

•

T77

(

E1

) •

T77E1

•

T85

(

E1

)
SPG

37mm T42

•

37mm T56

•

47mm M2A1

• 57mm T48 •

57mm T49

•

57mm T56

•

75mm M3

•

75mm T67

•

76.2mm M5

•

76.2mm M9

•

76.2mm M10

(

A1

) • 76.2mm M18 •

76.2mm T70

•

76.2mm T35

• 90mm M36 (

B1

•

B2

) • 90mm T53 •

105mm M37

• 105mm T95 •

114.3mm T16

•

155mm M12

•

155mm M40

• 203.2mm T93
SPH

75mm Christie

•

75mm Holt

•

75mm T1

•

75mm T3

•

75mm M8

•

75mm T18

•

75mm T41

•

75mm T47

• 105mm M7 •

105mm M37

•

105mm T76

•

105mm T82

•

105mm T88

•

155mm Christie

•

155mm M41

•

155mm T64

(

E1

) • 203.2mm M43 • 240mm T92
SPM

81mm T27

•

107mm T1

•

107mm T2

•

107mm T29

•

107mm T38

•

107mm T81

SPRA

M17

•

T34

•

T39

•

T72

•

T73

•

T76

•

T99

•

T105

•

Sd.Kfz. 251 with T34 Calliope

Utility
Cargo Carrier

T22

(

E1

) •

T23

Tractor

Allis Chalmers HD10W

•

Caterpillar D7

•

Ford T16

•

Heavy Tractor, M1

•

High Speed Tractor, M4

•

High Speed Tractor, M5

•

High Speed Tractor, M29

•

International Harvester TD-18

•

Light Snow Tractor, T15

•

Light Snow Tractor, T24

•

Light Tractor, T18

• LVT-1 • LVT-2 • LVT(A)-2 • LVT-3 • LVT-4
Prime Mover

M33

•

M35

Reconnaissance

T8

(

E1

Recovery & Engineering

M31

(

B2

•

B3

) •

T6

(

E1

)
Utility

M39

•

T41

(

E1

)
Half-Tracked Vehicles
Transport
M2 (

A1

•

A2

•

E6

) •

M3

(

A1

•

A2

• E2) • M5 (

A1

•

A2

) •

M9

(

M9A1

)


T7

•

T14

• T16 •

T29

•

T31

Trucks

T15

• T16 •

T17

•

T18

•

T19

Amphibious Transport

T32

Gun Motor Carriages (GMC)

M3, 75mm

(

A1

) • M34, 40mm


T12, 75mm

• T48, 57mm • T54, 40mm (E1) • T59, 40mm (E1) • T60, 40mm (E1) • T68, 40mm
Howitzer Motor Carriages (HMC)

T19, 105mm

•

T30, 75mm

•

T34, 105mm

• T38, 105mm
Multiple Gun Motor Carriages (MGMC)
M2 Halftrack (B-6) • M13 • M14 •

M15

(

A1

) • M16 (A1) • M17


T1

(

E1

•

E2

•

E3

•

E4

) • T10 (E1) •

T28

(

E1

) • T58
Mortar Motor Carriages (MMC)

81mm M4

(

A1

) •

T19

•

M21

•

T21

(

E1

)
Utility
Patton's Command Vehicle •

Radio Carrier, T17

•

T18 Instrument Carrier
Wheeled Vehicles
Combat Vehicles
Armoured Cars

M1

•

T4

•

M8

•

T17 Series

•

T17E1

•

T18

•

T18E1

•

T18E2

•

T19

•

T21

•

T22

•

T27

•

T28

•

T29

•

M38

•

T43

Scout Cars

M3

•

M3A1

•

T6

•

T7

•

T8

•

T9

•

T10

•

T11

•

T11E1

•

T11E2

Gun Motor Carriages (GMC)

37mm M6 GMC

•

75mm T66

•

76.2mm T55

(E1)
Multiple Gun Motor Carriage (MGMC)
T17E2 •

T69

Howitzer Motor Carriage (HMC)

75mm T17E3 CS

Utility
Transport & Towing

Armored Utility Car, M20

•

Autocar U-8144T

•

Bantan BRC40

•

Brockway 666

•

Brockway B666

•

Chevrolet 3116

•

Chevrolet G-7107

•

Chevrolet NK G-7113

•

Dodge VC-1

•

Dodge VC-2

•

Dodge VC-3

•

Dodge VC-4

•

Dodge VC-5

•

Dodge VC-6

•

Dodge VF-401

•

Dodge VF-402

•

Dodge VF-403

•

Dodge VF-404

•

Dodge VF-405

•

Dodge VF-406

•

Dodge VF-407

•

Dodge WC-1

•

Dodge WC-3

•

Dodge WC-4

•

Dodge WC-5

•

Dodge WC-6

•

Dodge WC-7

•

Dodge WC-8

•

Dodge WC-9

•

Dodge WC-10

•

Dodge WC-11

•

Dodge WC-12

•

Dodge WC-13

•

Dodge WC-14

•

Dodge WC-15

•

Dodge WC-16

•

Dodge WC-17

•

Dodge WC-18

•

Dodge WC-19

•

Dodge WC-20

•

Dodge WC-21

•

Dodge WC-22

•

Dodge WC-23

•

Dodge WC-24

•

Dodge WC-25

•

Dodge WC-26

•

Dodge WC-27

•

Dodge WC-36

•

Dodge WC-37

•

Dodge WC-38

•

Dodge WC-40

•

Dodge WC-41

•

Dodge WC-42

•

Dodge WC-43

•

Dodge WC-47

•

Dodge WC-48

•

Dodge WC-49

•

Dodge WC-50

•

Dodge WF-31

•

Ford 21A

•

Ford G8T

•

Ford 2G8T

•

Ford GP

•

Ford GPA

•

Ford Pigmy

•

FWD SU-COE

•

GMC ACKWX-353

•

GMC AFWX-354

•

GMC ACX-504

•

GMC CCKW-352

•

GMC CCKW-353

•

International KR-11

•

International M-5-6-318

•

M25 Prime Mover

•

M26 Prime Mover

•

Mack NR15

•

Reo 28XS

•

Studebaker US6x4 U6

•

Studebaker US6x4 U8

•

Studebaker US6x6 U1

•

Studebaker US6x6 U2

•

Studebaker US6x6 U3

•

Studebaker US6x6 U4

•

Studebaker US6x6 U5

•

Studebaker US6x6 U7

•

Studebaker US6x6 U9

•

Studebaker US6x6 U10

•

Studebaker US6x6 U11

•

Studebaker US6x6 U12

•

Studebaker US6x6 U13

•

Trackless Tank, T13

•

Willys MA

•

Willys MB (early)

•

Willys MB (late)

•

Willys MB Ambulance

•

White 666

Amphibious Transport & Towing

GMC DUKW-353

Bridgelaying

Brockway B666 Daybrook M-II-A Bridge Erector

Cranes & Construction

Brockway C666 Quick-Way Revolving Crane

Motorcycles

BSA M20

•

Harley Davidson 42WLA

•

Harley Davidson 43WLC

•

Harley Davidson EL

(

ELA

•

ELC

) •

Harley Davidson MT350

(

E

) •

Harley Davidson MT500

•

Harley Davidson UL

(

ULA

) •

Harley Davidson XA

•

Indian 741

•

Indian 841

•

Norton WD16H

•

Triumph Model H

Trailers

M15 Trailer