Overview
The M22 "Locust" was an American light tank designed to fit in a GAL.49 Hamilcar that would be transported underneath a Douglas C-54 Skymaster. The M22 only just fit inside the Hamilcar, and most crews decided to stay inside the tank for the duration of the flight. Common practice was to start the engine just before releasing from the C-54. Once arrived, the driver would pull a lanyard which would remove the anchorages keeping the vehicle in place. The driver could then drive forward, which automatically pulled a line that operated the swing door release. The Hamilcar could deflate allowing the vehicle to drive out without needing a ramp.
The M22 Locust was known as Light Tank, T9E1 before it was accepted.
Outfitting
The Locust was to dropped via glider GAL.49 Hamilcar (gliderborne).
The crew was issued 3 .45cal M1 SMGs with 450 rounds of ammunition.
The US Ordnance tested a littlejohn adapter that was originally used with a Light Tank Mk VII, Tetrarch on the Locust, but it distorted after a few shots.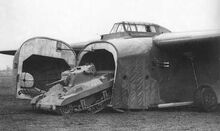 Variants
T9
T9E1
M22
Main production model. 830 built.
Operators
United States of America
17th Airborne Division
United Kingdom
6th Airborne Division
Belgium
Egypt
Post war use in the 1948 Arab-Israeli War.
Other
See Also

Land Vehicles of the United States of America


1919 - 1945
Half-Tracked Vehicles
Transport
M2 (A1 • A2 • E6) • M3 (A1 • A2 • E2) • M5 (A1 • A2) • M9 (M9A1)
T7 • T14 • T16 • T29 • T31
Trucks
T15 • T16 • T17 • T18 • T19
Amphibious Transport
T32
Gun Motor Carriages (GMC)
M3, 75mm (A1) • M34, 40mm
T12, 75mm • T48, 57mm • T54, 40mm (E1) • T59, 40mm (E1) • T60, 40mm (E1) • T68, 40mm
Howitzer Motor Carriages (HMC)
T19, 105mm • T30, 75mm • T34, 105mm • T38, 105mm
Multiple Gun Motor Carriages (MGMC)
M2 Halftrack (B-6) • M13 • M14 • M15 (A1) • M16 (A1) • M17
T1 (E1 • E2 • E3 • E4) • T10 (E1) • T28 (E1) • T58
Mortar Motor Carriages (MMC)
81mm M4 (A1) • T19 • M21 • T21 (E1)
Utility
Patton's Command Vehicle • Radio Carrier, T17 • T18 Instrument Carrier
Community content is available under
CC-BY-SA
unless otherwise noted.