This article requires a new infobox to be developed for firearm modernization kits.
Overview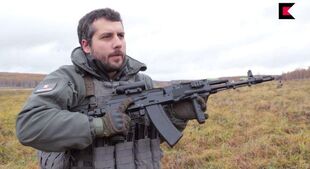 The KM-AK (GRAU Index: 6Ch63) is a Russian modernization kit for the AKM and AK-74 platform firearms. The kit is developed from the AK-200 (the AK-200 is essentially a factory-made AK-74M with the KM-AK kit) series of firearms, with many features of that series being used in the AK-12 and AK-15.
The kit is currently entering deployment with the Russian Armed Forces to upgrade the AK-74M assault rifles currently in service, with the upgraded firearms being known as AK-74MR (?). The kit is being deployed alongside the AK-12 due to assumed cost issues.
The kit comes with a pistol grip (with tools inside), a folding and collapsible stock with cheek riser, a muzzle brake/flash hider, a new AK-12 styled handguard/gas tube cover with rails, enhanced safety, and a new dust cover with a STANAG 2324 Picatinny Rail.
Weapons of the Russian Federation

Weapons of the Soviet Union


1946 - Present
Naval Weapons & Munitions
7.62mm Machine Guns
[[]]
12.7mm Machine Guns
[[]]
23mm Cannons
[[]]
30mm Cannons
[[]]
37mm Cannons
70-K
Rocket Pods
[[]]
Rockets
[[]]
Air-to-Air Missiles
[[]]
Air-to-Ship Missiles
[[]]
Air-to-Surface Missiles
[[]]
Anti-Radiation Missiles
[[]]
Cruise Missiles
[[]]
Bombs
[[]]
Community content is available under
CC-BY-SA
unless otherwise noted.