We're Getting Mutants in the MCU - The Loop
Play Sound
Overview
The Churchill II CDL was a test bed for the CDL system for the Grant, CDL.
No known photographs are known of the Churchill II CDL however there are numerous mentions of it in documentations and was mentioned it was used in 9th February 1945 near Kranenburg operating as a spotlight. However it is unknown how many Churchill CDL's were produced.
The Churchill II and Churchill III infantry tank hulls were used for this test bed design.
Variants
Infantry Tank Mk. IV, Churchill Mk. V

Infantry Tank Mk. IV, Churchill Mk. VIII

Infantry Tank Mk. IV, Churchill Mk. IX

Infantry Tank Mk. IV, Churchill Mk. X

Infantry Tank Mk. IV, Churchill Mk. XI

Derivatives

Infantry Tank Mk. IV, Churchill Mk. II, CDL
Media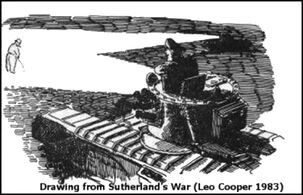 United Kingdom - 'A' Vehicles List
Light Tanks
Standard Light Tanks
A.3E1 •

A.4E1

•

A.4E2

•

A.4E3

•

A.4E4

•

A.4E5

•

A.4E6

•

A.4E7

•

A.4E8

•

A.4E9

•

A.4E10

•

A.4E13

•

A.4E14

•

A.4E15

•

A.4E16

•

A.4E17

•

A.4E18

•

A.4E19

•

A.4E20

•

A.5E1

•

A.17E1

•

A.18E1

•

A.25E1

•

A.46

Amphibious Light Tanks

A.4E11

•

A.4E12

Medium Tanks
Standard Medium Tanks

A.2E1

•

A.2E2

•

A.3E1

•

A.6E1

•

A.6E2

•

A.6E3

•

A.8E1

Cruiser Tanks
A.9E1 •

A.10E1

•

A.10E2

•

A.10E3

•

A.13E1

•

A.13E2

•

A.13E3

•

A.13 Mk. I

•

A.13 Mk. II

•

A.13 Mk. III

•

A.15E1

•

A.19E1

• A.24E1 •

A.27L

• A.27M •

A.28

•

A.29

• A.30 Challenger •

A.31

•

A.32

•

A.34

•

A.35

•

A.36

•

A.41

•

A.41*

•

A.41A

•

A.41S

•

A.41T

•

A.44

Infantry Tanks

A.11E1

•

A.12E1

•

A.20E1

•

A.20E2

•

A.21E1

•

A.22E1

•

A.22F

•

A.23E1

•

A.26

• A.38 •

A.42

• A.43
Heavy Tanks
Standard Heavy Tanks
A.1E1 •

A.7E1

•

A.7E2

•

A.7E3

•

A.45

Heavy Cruiser Tanks

A.14E1

•

A.14E2

•

A.16E1

Heavy Assault Tanks

A.33

•

A.37

• A.39
Self-Propelled Guns
Tank Destroyers

A.30 Avenger

Self-Propelled Gun

A.22D
Tracked Vehicles
Light Tanks
Standard Light Tanks
Carrier, Machine Gun, No. I •

A.18

•

Light Tank Mk. I

(

Mk. Ia

) •

Light Tank Mk. II

(

Mk. IIa

•

IIb

•

Indian Pattern No. 1

•

Indian Pattern No. 2

) •

Sceptre

•

Tetrarch

• Vickers E (A • B) •

Vickers F

Amphibious Light Tanks

A.4E11

•

A.4E12

Medium / Other Tanks
Medium Tanks

A.8E1

•

Medium Tank Mk. I

(

CS

) • Medium Tank Mk. II •

Medium Tank Mk. III

•

Medium Tank, Grant Mk. I

Cruiser Tanks

A.19

•

A.40

• Challenger • Comet • Cruiser Mk. I •

Cruiser Mk. II

•

Cruiser Mk. III

•

Cruiser Mk. IV

•

Cruiser Mk. V, Covenanter

•

Cruiser Mk. VI, Crusader

(

Mk. I

•

Mk. I CS

• Mk. II •

Mk. II CS

•

Mk. III

) • Cruiser Mk. VII, Cavalier •

Cruiser Mk. VIII, Centaur

(

Mk. I

•

Mk. II

•

Mk. III

•

Mk. IV

) • Cruiser Mk. VIII, Cromwell (Mk. I •

Mk. II

•

Mk. III

•

Mk. IV

•

Mk. V

•

Mk. VI

•

Mk. VII

• Mk. VIII) •

Sherman

(

Mk. I

•

Mk. I Hybrid

•

Mk. Ib

•

Iby

•

Ic

•

Mk. II

•

Mk. IIa

•

Mk. IIay

•

Mk. IIc

•

Mk. III

•

Mk. IIIa

•

Mk. IIIay

•

Mk. IIIc

•

Mk. IV

•

Mk. IVa

•

Mk. IVb

•

IVby

•

Mk. IVc

•

Mk. V

• Mk. Vc •

Mk. VII

•

Mk. VIIc

)
Infantry Tanks
Black Prince •

Infantry Tank Mk. I

•

Infantry Tank Mk. II, Matilda

(

Mk. I

• Mk. II • IIa •

Mk. II CS

• Mk. III •

Mk. III CS

•

Mk. IV

•

Mk. IV CS

) • Infantry Tank Mk. III, Valentine (Mk. I •

Mk. II

•

Mk. III

•

Mk. IV

•

Mk. V

•

Mk. VI

•

Mk. VII

•

Mk. VIIa

• Mk. VIII • Mk. IX • Mk. X • Mk. XI) •

Infantry Tank Mk. IV, Churchill

(Mk. I • Mk. II • Mk. II CS • Mk. III •

Mk. III*

•

Mk. III AVRE

•

Mk. III NA75

• Mk. IV •

Mk. IV AVRE

• Mk. IV NA75 •

Mk. V CS

• Mk. VI • Mk. VII •

Mk. VII AVRE

•

Mk. VIII

•

Mk. VIII CS

•

Mk. IX

•

Mk. IX LT

•

Mk. X

•

Mk. X LT

•

Mk. XI

•

Mk. XI LT

) • Valiant
Flamethrowing Tanks

Churchill Mk. II Oke

•

Churchill Mk. III Oke

• Churchill Mk. VII Crocodile •

Sherman Mk. III Adder

•

Sherman Mk. V Adder

Heavy Tanks
Standard Heavy Tanks

A.7E1

•

A.7E2

•

A.7E3

• Heavy Tank, TOG 1 • Heavy Tank, TOG 2 • Heavy Tank, TOG 2* • Heavy Tank, Vickers Independent
Heavy Cruiser Tanks

A.14E1

•

A.14E2

•

A.16E1

Assault Tanks

A.37

• A.T.1 •

A.T.2

•

A.T.3

•

A.T.4

•

A.T.5

•

A.T.6

•

A.T.7

•

A.T.7A

•

A.T.8

•

A.T.9

•

A.T.10

•

A.T.13

•

A.T.14

•

A.T.15

•

A.T.15A

•

A.T.16

•

A.T.17

•

A.T.18

•

Commodore

• Tortoise
Self-Propelled Guns
Self-Propelled Anti-Aircraft Gun

Crusader AA Mk. 1

•

Crusader AA Mk. II

•

Crusader AA Mk. III

•

Cruiser Tank, Mk. VIII, Centaur Mk. III, AA, Mk. I

•

Cruiser Tank, Mk. VIII, Centaur Mk. III, AA, Mk. I

•

Vickers Light Tank Mk. VIa, AA, Mk. I

Self-Propelled Anti-Tank Gun

6-pdr, SP, Molins

•

6-pdr, SP3, Alecto Mk. II

•

17-pdr, SP, M10, Achilles Mk. Ic

•

17-pdr, SP, M10, Achilles Mk. IIc

•

17-pdr, SP1, Valentine, Mk. I, Archer

•

17-pdr, SP2, Avenger

Self-Propelled Gun

3.75-inch, SP, Alecto Mk. I

•

25-pdr, SP, Alecto Mk. III

•

32-pdr, SP, Alecto Mk. IV

•

Gun Carrier, 3-inch, Mk. I, Churchill

Self-Propelled Howitzer

25-pdr, SP, Archer

•

25-pdr, SP, Bishop

•

SP 25pdr, Loyd

Self-Propelled Mortar

9.75-inch Flame Mortar, SP, Valentine, Mk. I

Utility
APC

Churchill Kangaroo

ARV

Churchill Mk. I ARV

•

Churchill Mk. II ARV

•

Churchill Mk. III ARV

•

Churchill Mk. IV ARV

Bridge Laying

Churchill Mk. III ARK

•

Churchill Mk. IV ARK

•

Shermon Octopus

CP

Covenanter Mk. II Command

•

Crusader Mk. III Command

Mine Clearing
Churchill Snake •

Valentine Snake

OP

Covenanter Mk. II OP

•

Covenanter Mk. IV OP

•

Crusader Mk. III OP

Spot.

A.41, CDL

• Churchill Mk. II, CDL • Medium Tank, Grant Mk. I, CDL • Infantry Tank Mk. III, Valentine, CDL
Wheeled Vehicles
Armoured Cars

ACV-IP Mk. I

(

Mk. II

•

Mk. IIa

•

Mk. IIb

•

Mk. IIc

•

Mk. III

•

Mk. IV

) •

AEC Mk. I

(

Mk. II

•

Mk. III

) •

Boarhound

•

Coventry Mk. I

(

Mk. II

) •

Daimler Mk. I

(

Mk. II

) •

Dingo Mk. I

(

Mk. Ia

•

Mk. Ib

•

Mk. II

•

Mk. III

) •

Greyhound

•

Guy Mk. I

(

Mk. Ia

) •

Humber Armoured Car Mk. I

(

Mk. II

•

Mk. III

•

Mk. IV

) •

Humber Light Reconnaissance Car Mk. I

(

Mk. II

•

Mk. III

•

Mk. IIIa

) •

Lanchester Armoured Car Mk. I

(

Mk. II

) •

Marmon-Herrington Armoured Car Mk. I

(

Mk. II

•

Mk. III

•

Mk. IIIa

•

Mk. IV

•

Mk. IV F

•

Mk. V

•

Mk. VI

•

Mk. VII

•

Mk. VIII

) •

Morris CS9

•

Morris Experimental Tank

•

Morris Glanville Fighter Car

•

Morris LRC Mk. I

(

Mk. II

) •

Morris Salamander

•

Rolls-Royce Armoured Car 1914 Pattern Fordson

•

Rolls-Royce Armoured Car 1920 Pattern Mk. I

•

Rolls-Royce Armoured Car 1920 Pattern Mk. Ia

•

Rolls-Royce Armoured Car 1921 Indian Pattern

•

Rolls-Royce Armoured Car 1924 Pattern

•

Rover Light Armoured Car Mk. I

(

Mk. II

) •

Staghound Mk. I

(

MK. II

•

Mk. III

) •

Standard Car Mk. I

(

Mk. II

•

Mk. III

•

Mk. IV

)
Self-Propelled Anti-Aircraft Gun

AEC Armoured Car Mk. II, AA

•

Humber Mk. I, AA

•

Leyland Beaver-Eel

•

Staghound Armoured Car, AA, Mk. I

Self-Propelled Gun

AEC Deacon Mk. I

•

Morris Firefly

Command

AEC ACV

•

Guy Lizard ACV

•

Lanchester Armoured Car Mk. Ia

•

Lanchester Armoured Car Mk. IIa

Observation

Humber Mk. II, OP

•

Morris LRC Mk. I, OP

Unarmed Reconnaissance

Lynx Scout Car Mk. I

•

Lynx Scout Car Mk. II

Transport & Towing

AEC Matador 0853

•

Albion BY3N

•

Austin 10

•

Austin K2/Y

•

Austin K3/YF

•

Austin K30

•

Chevrolet 1.5 ton

•

Chevrolet 1311X3 15cwt

•

Chevrolet 1533X2 30cwt

•

Chevrolet C8

•

Chevrolet Standard 40

•

CMP Ford 8cwt

•

Ford 15cwt

•

Ford C8A

•

Ford F30

•

Ford WOA2

•

Humber FFW

•

Humber FWD

•

Humber Staff Saloon

•

Humber Super Snipe

•

Willys MB

Amphibious Transport & Towing

Terrapin

Motorcycles

Ariel W/NG

•

BSA (W)M20

•

Triumph-3HW

•

Triumph-3SW