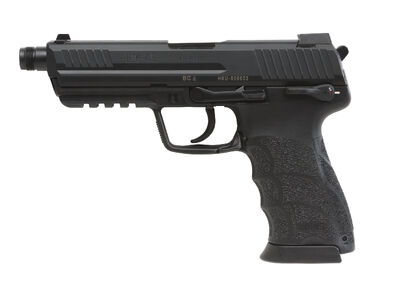 Heckler & Koch HK45
Information
Designed by Frank Henninger, Larry Vickers, and Ken Hackathorn, the HK45 was designed to meet the requirements set in the U.S. Military Joint Combat Pistol program, which had the purpose of getting a .45 ACP semi-automatic to replace the M9.
Variants
HK45
HK45C (Compact)
HK45T (Tactical)
HK45CT (Compact-Tactical)
Specs
Weight

HK45: 785g (27.7oz)

HK45C: 717g (25oz)

Length

HK45: 191mm (7.5in)

HK45C: 183mm (7.2in)

Barrel Length

HK45: 115mm (4.5in)

HK45C: 99mm (3.9in)

Width

HK45: 36mm (1.4in)

HK45C: 29mm (1.1in)

Height

HK45: 148mm (5.8in)

HK45C: 128.5mm (5.1in)

Caliber
.45 Automatic Colt Pistol
Action

Short Recoil Operated

Browning-type tilting barrel

Locked Breech

Feed System
Detachable box magazine, 10/8 round.
Sights
Drift Adjustable, 3-dot Super-LumiNova night sight system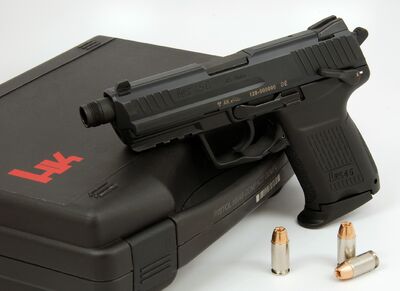 Users
Australia; HK45; Tactical Response Group.
USA; HK45C; United States Naval Special Warfare Command.
USA; HK45C; Fort Lee Police Department
Trivia
The HK45C was featured in Battlefield 4, under the name 'Compact 45'
The HK P30 shares the aesthetic design of the HK45.