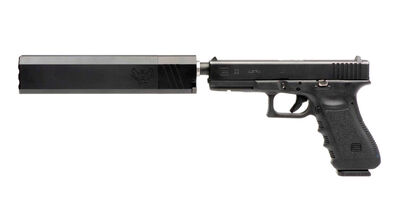 The Glock 22 is a pistol made by Glock Ges.m.b.H
Section heading
The Glock 22, is essentially a Glock 17, modified to fire .40 S&W, instead of the 9x19mm Parabellum that the Glock 17 uses.
It uses a modified slide, frame, barrel and magazine but is almost identical to the Glock 17 otherwise.
The Glock 22 has undergone 3 major revisions since production, in 1990. It is now on its 4th iteration.
The Glock 22 is commonly used by many law enforcement agencies, in the United States of America and other countries. The Federal Bureau of Investigation
It is possible to change the barrel of the Glock 22 to the .357 SIG caliber with ease.
The Glock 22 is also known by its shortened name: G22
Variants
Glock 22C
The Glock 22C is a modified version of the Glock 22, that features a ported barrel and slide with the aim to reduce muzzle climb while firing.
Other Generations
Specs
Weight (Unloaded)
650g (22.92oz)
Length
186mm (7.32in)
Barrel Length
114mm (4.49in)
Width
30mm (1.18in)
Height (With Magazine)
138mm (5.43in)
Caliber
.40 S&W
Action
Safe Action
Feed System
10/15/17 Round Detachable Magazine
Sights

Fixed Front

Fixed Rear