Overview
The FCM 2C is a French heavy tank developed for World War I. It was however too late for that conflict, but if it was fielded, it would have been the largest operational tank ever made.
Operational History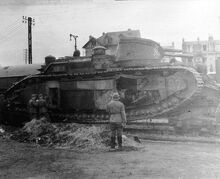 The ten FCM 2C tanks were numbered 90-99. Because of the time that these vehicles were made, there was little value of using these vehicles throughout the 1920s and 1930s. Nevertheless, during the French mobilization of 1939, all ten were activated and put into their own unit, the 51st Bataillion de Chars de Combat. For propaganda, each tank was named after one of the ancient regions of France.
| Number | Name |
| --- | --- |
| 90 | Poitou |
| 91 | Provence |
| 92 | Picardie |
| 93 | Alsace |
| 94 | Bretagne |
| 95 | Touraine |
| 96 | Anjou |
| 97 | Normandie / Lorraine |
| 98 | Berry |
| 99 | Champagne |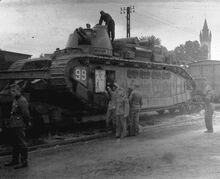 The 10 vehicles did not participate in the attack on the Siegfried line in 1939, they were intentionally kept out of harm's way. They were used instead for numerous morale-boosting movies, to the public, they were seen as invincible super tanks. When the Germans were getting closer to the tanks, they were to be sent South by rail, however the railway was blocked, so the vehicles were scuttled. Later Goebbels and Göring claimed the tanks were hit by German dive bombers, a propaganda lie that was repeated in many sources. Tank 99 "Champagne" was captured mostly intact and was brought to Berlin to be exhibited as a war trophy until disappearing in 1948.
Variants
FCM 2C
Standard FCM 2C
FCM 2C bis
In 1926, FCM 2C #99 "Champagne" was modified into the FCM 2C bis, an experimental type with a 155mm howitzer in a cast steel turret. New engines were fitted and the machine gun positions were removed. This change was temporary, as the vehicle was restored to the standard FCM 2C the very same year. The turret was used in the Tunisian Mareth Line.
Unnamed FCM 2C
Between 15th November and 15th December 1939, FCM 2C #97 "Lorraine" was modified with increased armour. The front armour was upgraded to 90mm and the side to 65mm. The final product weighed about 75 tons.

France
Land Vehicles
Pre-War & World War I Period (1900 — 1918)
Tracked Vehicles
Tanks
Light Tanks

Levavasseur

•

Peugeot 18

•

Renault FT-17

•

Renault FT-18

Medium Tanks

Chars Fouche

•

FCM 1A

•

FCM 1B

•

FCM A

•

Saint-Chamond

•

Saint-Chamond 25t

• Schneider C.A.1 •

Schneider C.A.2

•

Schneider C.A.3

Heavy Tanks

Char de POIX

• FCM 2C
Self-Propelled Guns
Self-Propelled Gun
Renault BS
Other
Experimental

Boirault Appareil No.1

•

Boirault Appareil No.2

•

Souain Experiment

Command

Renault TSF
Wheeled Vehicles
Combat
Light Tank

Frot-Turmel-Laffly

Other
Wire-Cutter

Breton-Prétot Appareil

France
Land Vehicles
Interwar & World War II Period (1919 — 1945)
Tracked Vehicles
Light Tanks
Standard Light Tanks
AMX 38 •

Batignolles-Châtillon 1935

•

Citröen P103

•

FAMH

• FCM 36 •

H 35

(

ré-armé

) •

H 38

•

H 39

•

Renault APX 6t

•

Renault FT-31

•

Renault NC27

•

R 35

•

R 40

Light Cavalry Tanks

AEM

Amphibious Light Tanks

DP-2

Combat / Recon Tankettes

ACG 1

•

ADF 1

•

AMC 34

•

AMC 34/YR

•

AMC 35

•

AMR 33

•

AMR 35 YS 1

•

AMR 35 YS 2

•

AMR 35 ZT 1

•

AMR 35 ZT 2

•

AMR 35 ZT 4

Medium Tanks
Standard Medium Tanks
AMX 39 •

AMX 45

•

AMX Tracteur B

•

BDR G

(

G1

) •

Fouga G

(

Fouga G1

) •

Lorraine G

(

G1

) •

Renault B

•

Renault B1

(bis • ter) • Renault D1 •

Renault D2

•

Renault D3

•

Renault G

(

G1

) •

Renault NC1

•

Renault NC2

•

SEAM G

(

G1

) •

Somua G

(

G1

)
Medium Cavalry Tanks

AMX 40

•

SOMUA S 35

•

SOMUA S 40

Heavy Tanks
Standard Heavy Tanks

AMX 37

•

ARL 37

• AMX Tracteur C (1939) • AMX Tracteur C (1940) •

ARL 1937 Variante C

•

ARL 1937 Variante S

•

ARL 1937 Variante V

•

ARL 40

•

ARL 44

• B40 •

FAMH

•

FCM 1A

• FCM 2C (

bis

) •

FCM 21

• FCM F1 •

Renault B1

(

bis

• ter) •

RX Tank BL

Self-Propelled Guns
Self-Propelled Anti-Aircraft Guns

Lorraine 37 with MG

Tank Destroyers

76.2mm M10 GMC

•

ACG 2

•

AEM Tank Destroyer

•

AMR 33 Engin P

•

AMR 35 ZT 3

•

Char d'Arrêt

•

Lorraine 37 Tank Destroyer

•

FT AC

•

SAu 40

•

UE 57

Self-Propelled Gun / Assault Gun

75 Garnier-Renault

•

ACL-135

•

ARL V 39

• Renault BS
Self-Propelled Howitzer

194mm GPF Saint Chamond

•

Lorraine 39 AM

Other Fully Tracked Vehicles
Command

AMR 35 ADF 1

Observation

AMR 35 YS 2

Reconnaissance

AMR 33

•

AMR 35

(

YS 1

•

ZT 1

•

ZT 2

•

ZT 4

)
Transport & Towing

Lorraine 37

•

Lorraine 38

•

Lorraine 39

•

Renault UE

•

SEAM

Turrets
Turrets

APX 1

•

APX 4

•

ARL 2

•

ARL 3

•

FCM F1

•

FCM F4
Half-Tracked Vehicles
Combat
Combat Cars

Panhard-Schneider P16

•

Citroën-Kégresse P28

Self-Propelled Anti-Aircraft Guns
12.7mm M16 MGMC •

Citroën-Kégresse P4T

•

Citroën-Kégresse P19

Self-Propelled Anti-Tank Guns

75mm M3 GMC

Self-Propelled Howitzer

75mm T30 HMC

Self-Propelled Mortars

81mm M21 MMC

Utility
Bridgelayers

1939 Somua Bridgelayer

Transport & Towing

1923 Peugoet-Kégresse

•

Citroën-Kégresse P17

• M2 Halftrack • M5 Halftrack •

M9 Halftrack

(

A1

) •

MCL 5

•

Unic P107