Overview
The 76.2mm Gun Motor Carriage, M18 (abbreviated as M18 GMC) is an American tank destroyer developed during the second world war.
Outfitting
Upgrade
During the summer of 1944, 685 M18s were returned to factories to receive a new gearbox. 640 of them were converted to a transport variant, M39.
Prototypes
T56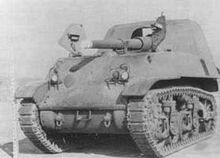 The T56 was the first design in the line towards the M18. It was based on the M3A3 Stuart tank. A 37mm gun in an open turret was tested, which was considered obsolete. A Royal Ordnance QF 6 Pounder (57mm) was tested as well in 1942.
T67
The T67 was the 2nd design, it was armed with an unknown 75mm gun. The design was based on the T49 Medium tank chassis. One model was tested in November 1942 in Aberdeen.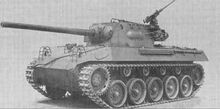 The T70 was the latest design. The 75mm was replaced with the 76.2mm M1. The engine was replaced by the Continental R-975-C1. Some problems persisted in the design; the front shock absorber was too weak for the weight of the tank, and the tracks had a below-average track life. After some fixes and a few small changes in the armour layout, the M18 was born. 6 T70 GMCs were completed.
Variants
76.2mm Gun Motor Carriage, M18
Standard production model.
Armored Utility Vehicle, M39
Transport version without turret. 640 converted.

Land Vehicles of the United States of America


1919 - 1945
Half-Tracked Vehicles
Transport
M2 (A1 • A2 • E6) • M3 (A1 • A2 • E2) • M5 (A1 • A2) • M9 (M9A1)
T7 • T14 • T16 • T29 • T31
Trucks
T15 • T16 • T17 • T18 • T19
Amphibious Transport
T32
Gun Motor Carriages (GMC)
M3, 75mm (A1) • M34, 40mm
T12, 75mm • T48, 57mm • T54, 40mm (E1) • T59, 40mm (E1) • T60, 40mm (E1) • T68, 40mm
Howitzer Motor Carriages (HMC)
T19, 105mm • T30, 75mm • T34, 105mm • T38, 105mm
Multiple Gun Motor Carriages (MGMC)
M2 Halftrack (B-6) • M13 • M14 • M15 (A1) • M16 (A1) • M17
T1 (E1 • E2 • E3 • E4) • T10 (E1) • T28 (E1) • T58
Mortar Motor Carriages (MMC)
81mm M4 (A1) • T19 • M21 • T21 (E1)
Utility
Patton's Command Vehicle • Radio Carrier, T17 • T18 Instrument Carrier
Community content is available under
CC-BY-SA
unless otherwise noted.