The 7.62 SPECWAR Suppressor is a suppressor made by SilencerCo.
There is a 5.56 variant here.
Use
This suppressor fits multiple .223 and 5.56x45mm NATO caliber rifles.
Store Features
Worry-free, positive locking ASR quick detach mount, Specwar will not loosen while firing
Ability to be mounted on 5.56 flash hider for multi caliber versatility
Lifetime Warranty
TrueBore manufacturing ensures little to no point of impact shift
Low back pressure
Store Description
THE MISSION READY SUPPRESSOR
Standard 308, magnum, or subsonic rifle, the Specwar 7.62 delivers unmatched precision in a lightweight, durable suppressor. The unique Active Spring Retention design provides solid repeatability for complete confidence in your next shot. True Bore manufacturing process ensures the highest level of accuracy with minimal point of impact shift.
ACTIVE SPRING RETENTION™
The Specwar 762 features the patent pending Active Spring Retention (ASR)™ mounting system for solid trouble free lockup. Installation and removal takes seconds. The use of our proprietary TrueBore™ manufacturing process ensures precise bore alignment and minimal point of impact shift. Includes a flash hider.
Specs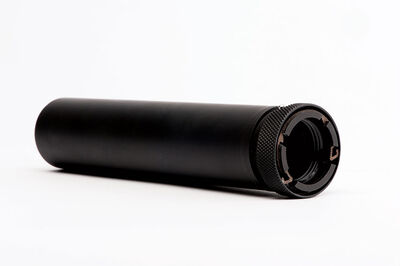 Caliber

7.62mm (.308)
30 Caliber Magnum

length

9.0"

diameter

1.50"

weight

24.0 oz

finish

Black Oxide

construction

Welded Baffles / Wire EDM Cut Bore (TrueBore)

baffles

Stellite®

tube

316L Stainless Steel

mount

316 Stainless Steel

sound pressure level

137dB (Tested with Remington 700, 20" barrel, M80 ammo)

MSRP

$899