Jurassic World: Dominion Dominates Fandom Wikis - The Loop
Play Sound
380mm Schwerer Ladungswerfer (sLdgW), German Spigot Mortar of WWII.
Overview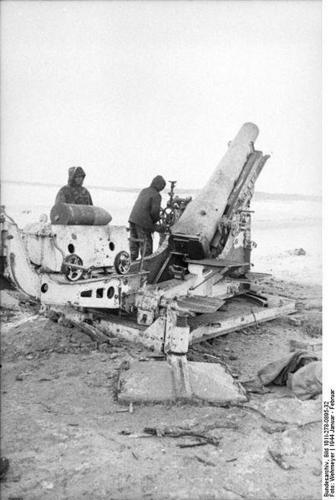 The 38cm sLdgW was a spigot mortar used engineers to demolish obstacles and strongpoints. It proved to be too heavy for its role and it was gradually withdrawn from front-line service. Propellant was placed at the top of the spigot to complete the electrical circuit. The spigot mortar was mounted on a traversing bracket on a drum-shaped platform that was staked to the ground.
Specifications
Designer: Rheinmetall
Weight: 1600kg (3500lb)
Barrel Length: 168cm (5ft 6in)
Diameter: 38cm (1ft 3in)
Shell: 149kg (328lb)
Caliber: 169mm (6.7in) (Spigot Diameter)
Elevation: 37° to 85°
Traverse: 360°
Maximum Firing Range: 1km (1100yd)
Ammunition
Unknown High Explosive
Filling: 50kg (110lbs) of ?
Weight: 149kg (328lb)
Unknown Smoke
?

German Weapons of the Second World War
Infantry Weapons
Melee Weapons
Bayonet

Kampfmesser 42

•

S. 84/98/III

Sidearms
Pistol

Dreyse M1907

• C96 • Mauser HSc •

P. 08

• P. 12(ö) • P. 27(t) •

P. 35(p)

•

P. 37(u)

•

P. 38

•

P. 38(t)

• P. 615(r) •

P. 640(b)

•

Sauer 38H

•

V.P.

• Walther PP • Walther PPK
Close Quarters
Submachine Guns
C.-M.P. •

E.-M.P.

(

34

•

36

• 44) • M.P. 18 • M.P. 28 •

M.P. 32

• M.P. 34 •

M.P. 35

• M.P. 36 • M.P. 38 (

/40

) • M.P. 38 (L) • M.P. 40 (/I) • M.P. 41 • M.P. 41(r) •

M.P. 41/44

• M.P. 715(r) • M.P. 716(r) • M.P. 717(r) • M.P. 719(r) •

M.P. 740(b)

• M.P. 3008 • V.-M.P. (25 •

26

•

30

)
Primary Weapons
Assault Rifles
Gustloff VSt.G. (507 •

508

) • M.Kb. 35 (

I

•

II

•

III

) • M.Kb. 42(H) • M.Kb. 42(W) • M.Kb. Gerät 06 (H) • M.P. 43/1 • M.P. 44 • St.G. 44 • St.G. 45(M) •

Wimmersperg Spz

(

kr

•

kv

•

l

)
Self-Loading Rifles

C.-S.G.

• G. 41(M) • G. 41(W) •
Battle Rifles

F.G. 42

(

I

•

II

) •

G. 43(M)

•

G. 43(W)

•

Krieghoff AG

Bolt-Action Rifles

Cönders

•

G. 24(t)

•

G. 98/40

• G. 33/40(t) •

G. 40k

• K. 98b • K. 98k (Kriegsmodell) •

V.G. 1

•

V.G. 2

•

V.G. 5

• V.G. 45 (

K

)
Combination Rifles
Sauer M30
Automatic Support Weapons
Light Machine Guns
Cönders •

l.M.G. 28(p)

•

M.G. 26(t)

•

M.G. 35/36A

•

M.V. 31

•

V.-M.G. 27

Medium Machine Guns
M.G. 13 • M.G. 34 • M.G. 39 Rh • M.G. 42 • M.G. 44 • M.G. 45 •

Wimmersperg Maschinengewehr

Heavy Machine Guns

MG 08

•

Schwarzlose M.7

Anti-Materiel
Anti-Tank Rifles

Pz.B. 35(p)

•

Pz.B. 38

•

Pz.B. 39

•

Solothurn S-18/100

•

Solothurn S-18/1000

•

Solothurn S-18/1100

Grenade Launchers

St.P.

Flare Guns

L.P. 42

Rifle Grenade Launchers

Gewehrgranatengerät

•

Gr.B. 39

•

Scheißbecher

Anti-Personnel Grenades

Eierhandgranate 39

• Sti.Gr. 24 (

K

•

T

) • Sti.Gr. 39 • Sti.Gr. 43
Anti-Tank Grenades

Hafthohlladung 3

•

Hafthohlladung 3.5

•

Panzerwurfmine

Smoke Grenades

Blendkörper 2H

•

Nebelhandgranate 39

•

Nebelkerze 39

Disposable Rocket Launchers
Faustpatrone 30 •

Fliegerfaust

•

Panzerfaust 30

• Panzerfaust 60 •

Panzerfaust 100

•

Panzerfaust 150

• Panzerfaust 250
Rocket Launchers

R.Pz.B. 43

•

R.Pz.B. 54

•

R.Pz.B. 54/1

Flamethrowers

Einstossflammenwerfer 46

•

Fm.W. 35

•

Fm.W. 41

Anti-Personnel Mines

Glasmine 43

•

Schrapnellmine 35

•

Schrapnellmine 35

•

Schrapnellmine 44

•

Stockmine 43

Anti-Tank Mines

Hohlladungs-Spring-Mine 4672

•

Panzer-Stabmine 43

•

Sprengriegel-Mine 43

•

Sprengriegel-Mine 44

•

Tellermine 29

•

Tellermine 35

•

Tellermine 42

•

Tellermine 43

•

Topfmine 4531

•

Topfmine A4531

•

Topfmine B4531

•

Topfmine C4531

Infantry Mortars

5cm leGrW 36

•

8cm GrW 34

•

8cm GrW 42

•

9cm Gr.W. 309(j)

•

12cm GrW 42
Artillery
Anti-Aircraft Guns

2cm Fla.K. 30

•

2cm Fla.K. 38

• 2cm Geb.Fla.K. 38 •

3,7cm Fla.K. 18

•

3,7cm Fla.K. 36

•

3,7cm Fla.K. 37

•

3,7cm Fla.K. 43

•

3,7cm Fla.K. 44

•

3,7cm Gerät 341

• 5cm Fla.K. 41 •

5cm Gerät 241

• 5,5cm Gerät 58 •

7,62cm Fla.K. 38(r)

•

7,65cm Fla.K. 268/1(ö)

• 8,8cm Fla.K. 18 •

8,8cm Fla.K. 36

•

8,8cm Fla.K. 37

•

8,8cm Fla.K. 38(r)

•

8,8cm Fla.K. 41

•

8,8cm Gerät 42

• 10,5cm Fla.K. 38 •

10,5cm Fla.K. 39

• 10,5cm S.K. C/33 • 12,8cm Fla.K. 40 •

12,8cm Fla.K. 45

• 15cm Fla.K. 50 • 15cm Fla.K. 55 •

15cm Fla.K. 60

(F) •

15cm Fla.K. 65

•

24cm Gerät 80

•

24cm Gerät 85

Anti-Tank Guns
2,5cm Pa.K. 112(f) •

2,5cm Pa.K. 113(f)

•

2,8cm s.Pz.B. 41

• 3,7cm Pa.K. 18 • 3,7cm Pa.K. 36 •

3,7cm Pa.K. 37(t)

•

3,7cm Pa.K. 156(j)

•

4,2cm Pa.K. 41

• 4,5cm Pa.K. 184(r) •

4,7cm Pa.K. 38(t)

•

4,7cm Pa.K. 181(f)

• 5cm Pa.K. 38 •

5cm Gerät 241

•

5,7cm PaK 202(a)

•

5,7cm PaK 209(e)

•

7,5cm Pa.K. 97/38

• 7,5cm Pa.K. 39 • 7,5cm Pa.K. 40 •

7,5cm Pa.K. 41

• 7,5cm Pa.K. 42 •

7,5cm Pa.K. 44

• 7,5cm Pa.K. 50 • 7,62cm Pa.K. 36(r) •

7,62cm Pa.K. 39(r)

•

8cm P.A.W. 600

• 8,8cm Pa.K. 43 •

8,8cm Pa.K. 43/41

•

12,8cm Pa.K. 40

• 12,8cm Pa.K. 44
Field Guns
7,5cm FK 16 nA •

7,5cm FK 18

•

7,5cm FK 38

•

7,5cm FK 7M85

•

7,62cm FK 296(r)

•

7,62cm FK 297(r)

•

7,65cm FK 5/8(j)

•

7,65cm FK 5/8(ö)

•

7,65cm FK 5/8(t)

•

7,65cm FK 17(ö)

•

7,65cm FK 17(t)

•

7,65cm FK 268(i)

•

7,65cm FK 300(j)

•

7,65cm FK 303(j)

•

8cm leFK 18(ö)

•

10cm K 17

•

10cm sK 18

•

10,5cm sK 18/40

•

10,5cm K 320(i)

•

10,7cm K 352(r)

•

12,2cm K 390/1(r)

•

12,2cm K 390/2(r)

•

15cm K 16

•

15cm K 18

•

15cm K 39

•

15cm K 429(b)

•

15cm SK C/28

•

15,2cm K 15/16(t)

•

15,2cm K 410(i)

•

15,2cm K 433/2(r)

• 17cm K 18
Howitzers

10cm leFH 14(ö)

•

10cm leFH 315(i)

•

10cm leFH 315(j)

•

10,5cm leFH 16

• 10,5cm leFH 18 •

10,5cm leFH 18M

•

10,5cm leFH 18/40

•

10,5cm leFH 43

•

12,2cm leFH 386(r)

•

12,2cm leFH 388(r)

•

12,2cm sFH 396(r)

•

15cm sFH 13

•

15cm sFH 14(ö)

•

15cm sFH 14(t)

•

15cm sFH 18

•

15cm sFH 40

•

15,2cm sFH 443(r)

•

15,2cm sFH 445(r)

•

21cm Mrs 16

• 21cm Mrs 18 •

21cm Mrs 18/19(t)

Infantry & Mountain Guns

7,5cm leIG 18

• 7,5cm IG 37 •

7,5cm IG 42

•

7,5cm GebH 34

•

7,5cm GebH 36

•

7,5cm GebK 259(i)

•

7,62cm GebK 293(r)

•

7,62cm GebK 307(r)

•

7,62cm IKH 290(r)

•

10cm GebH 16(ö)

•

10cm GebH 16(t)

•

10cm GebH 316(i)

•

10,5cm GebH 40

•

15cm sIG 33

Mortars
10cm NbW 35 •

10cm NbW 40

•

12cm GrW 42

•

20cm leLdgW

•

21cm GrW 69

•

28cm Mrs 601(f)

• 38cm sLdgW
Railroad Artillery

15cm K (E)

•

15cm K 5M (E)

(

Ku

) •

17cm K (E)

•

20,3cm K (E)

•

21cm K 12 (E)

•

24cm Th K (E)

•

24cm ThBr K (E)

•

28cm kzBr K (E)

•

28cm lgBr K (E)

•

28cm sBr K (E)

•

28cm Br NK (E)

• 28cm K 5 (E) •

38cm Siegfried K (E)

•

80cm K (E) Gustav

Recoilless Guns

7,5cm LG 40

•

10,5cm LG 40

•

10,5cm LG 42

Rocket Artillery

7,3cm Föhn-Gerät

•

7,3cm Propagandawerfer 41

•

8cm Raketen-Vielfachwerfer

•

8,8cm RW 43

•

15cm Do-Gerät

• 15cm NbW 41 •

21cm NbW 42

•

28/32cm NbW 41

•

30cm NbW 42

•

30cm RW 56

•

Wurfrahmen 40

Siege Artillery

21cm K 38

•

21cm K 39

•

24cm H 39

•

24cm K 16(t)

• 24cm K 3 •

24cm K 4

•

28cm H

•

30,5cm Mrs 11(t)

•

30,5cm Mrs 638(j)

•

35,5cm H M1

•

42cm Gamma Mrs

•

60cm Karl-Gerät
Land Vehicle Weapons
Vehicle Machine Guns
M.G. 13 • M.G. 34 •

M.G. 35(t)

•

M.G. 37(t)

• M.G. 42 • M.G. 44
Standard Tank Guns
3,7cm KwK 36 • 3,7cm KwK 38(t) • 5cm KwK 38 • 5cm KwK 39 •

7,5cm AK 7 B 84

•

7,5cm KwK 37

• 7,5cm KwK 40 •

7,5cm KwK 42

•

7,5cm KwK 44

•

8,8cm KwK 36

• 8,8cm KwK 43 •

12,8cm KwK 44

•

Waffe 0725

Standard Assault Guns

7,5cm StuK 37

•

7,5cm StuK 40

Other Cannons Mounted on Vehicles
2,5cm PaK 112(f) •

4,7cm PaK 36(t)

• 5cm PaK 38 • 7,5cm PaK 39 • 7,5cm PaK 40 • 7,5cm PaK 42 •

7,5cm RfK 43

•

76,2cm PaK 36(r)

•

8cm PAW 600

• 8,8cm PaK 43 •

12,8cm Kanone 43

Anti-Aircraft Guns Mounted on Vehicles

2cm FlaK 30

•

2cm FlaK 38

•

3cm FlaK 103/38 Vierling

•

3,7cm FlaK 37

•

3,7cm FlaK 44

• 5,5cm Gerät 58 •

8,8cm FlaK 36

Vehicle Autocannon

2cm KwK 30

• 2cm KwK 38 • MK 103 •

MK 112

• EW 141
Spotlights
60cm Beobachtungs Gerät 1251
Aircraft Weapons & Munitions
Aircraft Machine Guns

MG 15

•

MG 17

•

MG 81

•

MG 131

Aircraft Cannons below & including 30mm

C/30

•

MG FF

•

MG FF/M

•

MG 151/15

•

MG 151/20

•

MG 213C

•

MG 213K

•

MK 101

• MK 103 •

MK 103M

• MK 108
Aircraft Cannons above 30mm
BK 3,7 • BK 5 •

BK 7,5

•

Düsenkanone 8,8

•

MK 112

•

MK 115

•

SG 116

•

SG 500

Aircraft Rockets & Missiles

Henschel Hs 293

•

Henschel Hs 298

•

Kramer Rk 344 X-4

•

R4M

•

Ruhrstahl Ru 344 X-4

•

Werfer-Granate 21

Aircraft Bombs, High Explosive

PD 500

•

PD 1000

•

SB 1000

•

SB 1800

•

SB 2500

•

SC 10

•

SC 50

•

SC 250

•

SC 500J

•

SC 500

•

SC 1000

•

SC 1800

•

SC 2000

•

SC 2500

Aircraft Bombs, Anti-Personnel - Splitterbomben

SD 1

•

SD 2

•

SD 4/HL

•

SD 4/HL RS

•

SD 9/HL

•

SD 10

•

SD 50

•

SD 70

•

SD 250

•

SD 500

•

SD 500A

•

SD 500E

•

SD 1400

•

SD 1700

Aircraft Bombs, Armour-Piercing - Panzersprengbombe-Cylindrisch

PC 500

•

PC 1000

•

PC 1400

•

PC 1600

•

PC 1800 RS
Naval Weapons & Munitions
Machine Guns

FlaMG 39(t)

•

MG 15

• MG 34 •

MG 151/15

Cannons, up to 74mm

2cm MG C/30

•

3,7cm SK C/30

•

5cm SK L/40

•

5,2cm SK L/55

Cannons, 75mm to 130mm

8,8cm SK C/30

•

8,8cm SK C/31

•

8,8cm SK C/32

•

8,8cm SK C/35

•

8,8cm SK L/30

•

8,8cm SK L/35

•

8,8cm SK L/45

•

10,5cm SK C/32

•

10,5cm SK C/33

(

nA

•

nT

) •

10,5cm SK L/35

•

10,5cm SK L/40

•

10,5cm SK L/45

•

12,7cm SK C/34

Cannons, 130mm or higher

15cm SK C/25

•

15cm SK C/28

•

15cm SK L/35

•

15cm SK L/40

•

15cm SK L/45

•

15cm TbtsK C/36

•

17cm SK L/40

•

20,3cm SK C/34

•

21cm K L/35

•

21cm L/35

•

21cm SK L/40

•

21cm SK L/45

•

24cm K L/35

•

24cm SK L/40

•

28cm SK C/28

•

28cm SK C/34

•

28cm SK L/40

•

28cm SK L/45

•

28cm SK L/50

•

30,5cm SK C/34

•

38cm SK C/34

•

38cm SK L/45

•

40,6cm SK C/34

Torpedoes

G7a

Depth Charges

WBD

Naval Mines
[[]]